Gudauri is one of the primary destinations for winter adventure lovers. The mountainous resort Gudauri is approximately 2 hours drive from Tbilisi and features one of the most mesmerizing views on the Caucasus mountains. 
Gudauri is one of the most fascinating and touristic ski resorts in Georgia. The resort is located on the plateau of The Greater Caucasus Mountain Range. The maximum elevation is 2,200 meters, which is around 7,200 ft above sea level. 
Catch the wave 
Gudauri Ski Resort offers one of the highest quality skiing opportunities. The ski resort is especially good for the free-riders as it is completely above the tree line, which makes the ride very enjoyable. If you are lucky enough, you can even observe the change of the weather on the different stages of slopes. 
The ski resort is equipped with modern infrastructure and is considered to be avalanche-safe. Adventurous people of all ages are welcome to try the slopes of Gudauri. 
The ski resort has 22 active ski slopes. Most of them are for professional skiers, though there are eight slopes available for beginners. The total length of the ski run is 64 km. There are 15 lifts available on the slopes. The lifts work from 10:00 AM to 16:00 PM during the ordinary season, and from 9:00 AM to 17:00 PM during the late season, as the daylight lasts longer. This means that you can enjoy skiing and views for over five hours a day!
The skiing season in Gudauri usually opens in mid-December and lasts until the middle of April. Though, this is very much dependent on the weather conditions. 
Main Notes To Take About Gudauri: 
Season dates: middle of December, middle/end of April

Maximum altitude: 2,196, while the highest is Sadzele of 3,279 meters 

Slopes: 80 km - 30% blue slopes (for beginners), 40% red slopes (for advanced ski riders), 30% black slopes (for professionals only)

Ski Lifts: 15 lifts in total. 

Lifts: 6 Gondola types, 4 drag lifts, and 5 chairlifts 

Night Skiing: Friday-Saturday from 20:00 to 22:00

Daily ski pass price: Adult $16, Youth 16 or less $8, children under 6 free of charge 
Other attractions
On your way to Gudauri, besides imagining yourself skiing on one of the most mesmerizing mountains of Georgia, you can also stop by several sightseeing locations. Your professional tour guides can plan your whole trip and include all necessary stop points in order to enrich your travelling experience. 
It is a well-known fact that Georgia is an ancient country and we have a lot of stuff to show to the visitors. On the way to Gudauri, you can stop by the Jvari monastery, which dates back to the sixth century and is one of the most attractive sightseeing around Mtskheta. Mtskheta is an old city near Tbilisi, which is famous for its old and very unique architecture and the variety of churches. Jvari Monastery stands on the top of the rocky mountain and has the view of two rivers flowing into one. Jvari Monastery is listed as a world heritage site by UNESCO. Other sightseeing on the way to Gudauri includes Ananuri fortress and Zhinvali Lake, which has a very beautiful shade of colour, while Ananauri has a very interesting history in the background. 
Gudauri Tour Offers:
Skiing and Snowboarding 
Both beginners and professionals are welcome to the slopes of Gudauri. There are slopes available for any type of rider. Whether you snowboard or ski, are you professional or beginner we will plan an interesting tour for you and provide you with all the necessary equipment and services. 
We can grab high-quality equipment for you and even find a professional ski teacher, who will guide you through your first skiing experience. 
Paragliding 
Are you a more extreme winter sports lover? We have something very interesting to offer you. Paragliding in Gudauri will be one of the most memorable experiences of your life. This is the point, where you say - the sky's the limit. 
You will be able to jump out of a small plane. Together with the experienced instructor of course. Once you are up there, you can have the pleasure of seeing the great mountains from above and hop, once you jump out do not forget to take a deep breath. 
Snowmobile 
As if skiing or snowboarding was not enough for you, you are free to try driving the snowmobile. Do you love the speed? The winter and the adrenaline running in your veins? Then take over the steering wheel, push the gas and enjoy your drive. 
HeliSkiing 
If you thought that this was the end, you are mistaken. Gudauri Ski Resort has yet a lot to offer you. Do you like to be the first person to be in everything? Would you like to try the untouched snow first? Then HeliSkiing is for you. 
The helicopter is all yours. You can find untouched snow places during helicopter flights. Once you choose the suitable one for yourself, you are free to board or ski down from there. 
Tour Price
The price of this Gudauri Ski Resort Tour is calculated per group member for 8 people group with starting and ending location from Tbilisi. For any other inquiries please contact us and our travel agent will calculate the price for you.
Pickup from any hotel or address

Comfortable 4x4 vehicle during snowy weather

Professional and experienced driver

Professional ski instructor (Upon Request)

Professional tour guide (Upon Request)
Ski equipment rent

Accommodation

Entrance fees

Food and meals
Day 1 - Approximate Schedule
08:00 - Pick up from the hotel
09:00 - Ananuri Fortress and Zhinvali Lake
11:00 - Arrival in Gudauri Ski Resort
11:00 - Free time to ski or relax in Gudauri
20:00 - Back to Tbilisi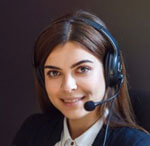 Talk with Mariam
Travel Agent