Welcome to the diamond bridge over Tsalka Dashbashi canyon, one of the largest and most beautiful monuments in Europe, offering spectacular views of the canyon landscapes. The 240-metre-long diamond bridge is part of Algeti National Park and is now open to tourists from all over the world.
Local Facilities in Dashbashi Canyon
Tsalka (Dashbash) Canyon natural monument is a canyon carved by Ktsia (Khrami) River in the stream bed cut through the volcanogenic rocks of Dashbash volcanic plateau, distinguished by its rarity and biodiversity. It is located at 1,110-1,448 m above sea level. The Dashbashi waterfall hidden in the green attracts a lot of visitors with its paradise idyll and beauty. The popularity of the canyon is also due to the fact that the walking distance is small and anyone can easily visit this amazing place without much effort.
240 Metre-long Diamond bridge is in complete synthesis with the environment, and thanks to the 360-degree view area, it promises visitors an unforgettable adventure. In the middle of a diamond-shaped structure on the bridge is a Diamond 360⁰ Cafe, which will take its place in the Guinness Book of Records, with the status of the tallest restaurant hanging on the bridge. You will find in the area Diamond Restaurant and also Diamond Garden Cafe
Before visiting restaurants you would be able to hike down the 1.5 km trail which will take you down the canyon and reach the river. Bicycle Zip Line is stretched below the glass bridge where you can have an unforgettable bike ride in your life.
Tour Price
The price of this tour is calculated per group member for 8 people group with starting and ending locations from Tbilisi. For any other inquiries please contact us and our travel agent will calculate the price for you.
Pickup from any hotel or address

Airport Transfers

Comfortable vehicle with air-conditioner

Professional and experienced driver

Professional tour guide (Upon Request)
Accommodation

Entrance fees

Food and meals
Day 1 - Approximate Schedule
10:00 - Pick up from the hotel
12:30 - Dashbashi Canyon
21:00 - Back to the hotel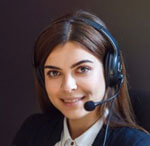 Talk with Mariam
Travel Agent