How to get Tbilisi Airport taxi easy to Tbilisi city Center? We managed to connect surroundings to the Tbilisi city central facilities by providing customers with on-demand Tbilisi airport taxi service.
It is easy to find transport at Tbilisi, either pre-book Tbilisi airport taxi service, online or catch it in airports, railway stations, streets, etc.
Tourists can contact customer support 24 Hours and pre-book transfer from Tbilisi Shota Rustaveli Airport. Tbilisi Airport taxi service the personalized packages at affordable price
How to Go from Tbilisi Airport to Tbilisi City Center?
We're continually monitoring common problems that thousands of visitors face every time they visit Georgia. Getting to the central areas of Tbilisi seems impossible and nerve-wracking to the majority of the tourists.
Local taxi drivers try to trick the first-time visitors and ask for hundreds of GELs without even worrying about your costs. Transfers Georgia will help you avoid facing those kinds of problems furthermore.
How to go Tbilisi Center cheap?
The cheapest ways → Options / Short answers
Tbilisi Airport Taxi – 20-30 minutes, cost around 20 $
Tbilisi Airport Bus Shuttle – Bus #37 Very Cheap, 0,50 GEL (0,20 Cent) takes 40-50 Minutes
Tbilisi Airport train – Very cheap, Departures: 7:55 AM – 4:55 PM – Platform 1
Tbilisi Airport Outside Taxi – Might be extremely expensive, non-English speaker drivers
Tbilisi Airport Mini Bus Service – for group transfers, contact local companies
Tbilisi Airport Car Rental – easy to find at the arrival hall, price 30$ up to 200$
Tbilisi Airport Taxi Service
Taxi Drivers at the airport greet passengers. Transfers Georgia is offering a wide range of vehicles, starting from the economy all the way to the VIP, so-called luxurious class.
Tbilisi Airport Taxi to Batumi City
Tbilisi Airport Taxi to Kazbegi Mountain
Tbilisi airport transfers welcomed by professionals, taken to the hotel by insured cars, Service includes meet and greet service at Tbilisi Airport arrival hall with a signed board.
Fixed price, toll fee TAX & VAT included. You can book Transfer from Tbilisi Airport to Batumi City, Gudauri Ski Resort, Kazbegi, Kutaisi City any destination in Georgia.
It surely is too good to be true, but that has been the only company operates since its foundation.
How much Tbilisi Airport taxi cost to Gudauri Ski?
Tbilisi to Gudauri Ski Resort it's around 120km, and it will cost you less than 89$ USD. The road from Tbilisi to Gudauri very impressive you can find more information on our websites, but If you are traveling from the Tbilisi Airport to Tbilisi city the average price is 50-60 GEL (20-22 Euros) up to 3 passengers
What Scams should I beware of visiting Tbilisi Airport?
Beware choosing a taxi from Tbilisi Airport, Always ask for a fixed price, otherwise, it may cost you very expensive. Now in Tbilisi there are white colored cars registered by Tbilisi City Hall. Driver ID Scan must be printed inside the car.
Tbilisi International Airport Bus Shuttle
Would you like to take an exhausting ride to your hotel?
You will have to stop the bus number 37, pay 0.5 GELs (20 Cent) per person for the entire journey.
Tbilisi Airport Bus Station – Kakheti Highway – Black Sea Street – Queen Ketevan Avenue – Baratashvili Str. – Rustaveli Ave. – Kostava Str. – Queen Tamara Ave. – Station Square 1.
(Bus stop is located in from of the arrival hall, roughly up to 1 hour 20 Minute, depending on the city traffic.)
Check online bus timetable: More information
Train from Tbilisi Airport to Tbilisi City Central
Are you trying to reach the desired destination in the shortest period?
The route costs 50 Tetris. Remember to bring the change with you to quickly pay for the transportation fee.
Here's the detailed train route:
Varketili – Samgori – Isani – 300 Aragveli – Avlabari – Freedom Square – Rustaveli – Marjanishvili – Station Square
Train Time Schedule:
Tbilisi-Airport 7:55 AM Airport-Tbilisi 8:35 AM
Tbilisi-Airport 4:55 PM Airport-Tbilisi 5:40 PM
Tbilisi Airport Minibus & Bus for Groups
If you visit Georgia with the group, then travel is connected with a bigger problem. Traveling a large number of people is not easy with a taxi to get to Tbilisi City Center.
Transfers Georgia will save you from the extra problem. For large groups, you can order a minibus or bus at the airport. This will prevent you from reducing the waste of time, splitting into several parts of the group, and so on.
Tbilisi Shota Rustaveli Airport Car Rental Service
Do you prefer enjoying beautiful sightseeing in Georgia?
Consider renting a car at the Tbilisi airport in advance to take the chance of looking at the blend of the modern and ancient buildings of Tbilisi. Price starts from 60$ USD, depends on the vehicle model and year, remember deposit required and of course, if you do not want to use the Tbilisi airport taxi service.
Tbilisi Airport Arrivals information
There's a wide range of ways of getting to the ITS. Most commonly people tend to use Tbilisi airport taxi. Of course, it is up to a customer to make the final decision. However, don't forget to root for the one, which will help you reach the destination on time.
Once you're at the right location, the only thing that you will have to check is the tabloid of the upcoming planes to land.
Tbilisi Airport Departure information Guide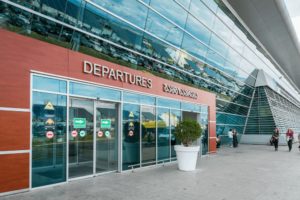 After completing the check-in procedures, you're ready to join the waiting lounge. Bring the boarding card alongside the password to secure space for the luggage of yours.
Following the above-described instructions will give you access to the tax-free shopping area, consisting of restaurants, cafes and other varieties of markets.
Airport Duty-Free shops and

Restaurants

:

Visitors can also enjoy stocking up on vintage accessories, natural cosmetics, toys, tobacco and a vast selection of classic Georgian wines.