The first Wine in Georgia was made about 8000 years ago and this is already a reason why you should visit the Kakheti region which is the heart of winemaking and we are pleased to offer you an amazing wine tour. Also, Georgia was one of the first countries to actually produce wine, and that is one of the most important parts of Georgian history. 
About Kakheti
Kakheti is the oldest and unique viticulture and winemaking region in Georgia. Most of the vineyards of Georgia are located in this region and the species of produced wines are characterized by unique and exclusive characteristics. The traditional Georgian method of pitcher wine was given the title of UNESCO Intangible Cultural Heritage Site in 2013, which points out the uniqueness of this method and is a message to the whole world that wine is an integral part of ancient and modern Georgian culture.
On the outskirts of Alazani Valley in Kvareli, there is a unique wine cellar – a tunnel. The tunnel is set in the cliffs of the Caucasus, opened in 1962 specifically for the World Congress of Wine and is currently the "Khareba Winery" wine preserve. The best wines of the Kakheti region have been stored here for several decades. It maintains a natural temperature of 12-14 C throughout the year, with a humidity of 70%, which makes it ideal for storing and maturing wine. This is the perfect place to take up the wine tasting. 
Telavi is a center of Kakheti, which is distinguished by the cultural monuments and history of an ancient period. Here you will find the debris of the Bronze Age, medieval temples of great cultural significance, the ruins of palaces and castles that are home to many fascinating legends and heroes. Among one the most famous is the Ikalto Monastery, which in the past was the XI-XII orthodox university. The whole city is really small and all of the main destinations are reachable with just a walking tour. 
Tour Offers:
Wine tasting: Within the tour, you will have one of the very unique opportunities to try some of the best Georgian wine, in one of the oldest wine cellars in the Region 
Ancient Castles: in the center of Telavi there is the castle, from where you can see the Alazani Valley and outlook the whole city. This is a very picturesque view. 
Visiting Tsinandali estate: Tsinandali estate belongs to one of the most prominent Georgian Authors, Alexandre Chavchavadze. This is one of the major destinations for visitors, as the estate holds a huge garden, cellar, cafe. There also is the wish tree, and it is said that once you make a wish in Tsinandali, it will necessarily come true. 
Kakheti Wine Tour Highlights
In this 1 day tour, you have a possibility to taste the best wines in Kvareli – Khareba Winery Gvirabi, visit beautiful Telavi and Ikalto Monastery
Wine tasting (1-2 glass of wine per guest)

Pickup any hotel or address

Comfortable car with air-conditioner

Professional and experienced driver

Professional tour guide (Upon Request)
Accommodation

Entrance fees

Food and meals
Day 1 - Approximate Schedule
10:00 - Pick up from the hotel
11:30 - Ikalto Monastery Complex
13:30 - Wine tasting in Gvirabi - Khareba Winery
17:00 - Dinner in Telavi and more wine!
22:00 - Back to Tbilisi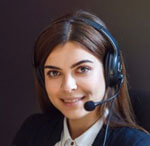 Talk with Mariam
Travel Agent